Staff Image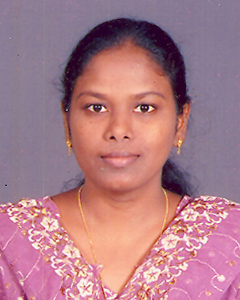 Professional Experience
3 years
Qualification
M. Sc. (Agricultural Entomology)
Specilization
Biological control and Biotechnology

Training
International
Participated "International Learning Programme on safe vegetable production" from 1st October to 7th October 2007, conducted by AVRDC-Regional for South Asia and ICRISAT, Patancheru A.P. India

Winter school training o "Biological and Biotechniological Approaches to insect pests and disease Control" from 14th December 2007 at PDBC Bangalore, India

Awards and Honours
Life Member , Society of Biocontrol Advancement in India , Bangalore.

Life Member, Vegetable Science , Varanasi.

Brief Achievements
Histopathological studies were made on thrips and mite on chilli

Recorded new hosts for Trichogramma chilotrea

Identified native potential bioagents against chilli yellow mite and spodoptera litura under North Indian condition

Identified effective botanical extractions against chilli yellow mite under polyhouse/field condition

Recognition
Life Member , society of biocontrol Advancement in india , Bangalore

Life Member, Vegetable Science , Varanasi

Selected Publications
Rai, A.B. , Satpathy S., Gracy, R.G., Shivalingaswamy, T.M. and Rai, M. (2007). Yellow mite (Polyphagotarsonemus latus Banks) menance in chilli crop. Veg. Sci. 34(1);1-13

Rai, A.B. , Gracy ., R.G., Akhilesh Kumar, S.N.S. Chaurasia and Mathura Rai 2008. Effect of Apis mellifera pollination on the yield attributing characters and yield of cucumber (Cucumis sativsL.) Veg. Sci., 35(2) 201-202.

Rai, A.B. , Satpathy, S., Gandhi Gracy , R. and T. M. S. swamy 2009. Some approaches in management of sucking pests on chilli with special reference to tarsonemid mite Polyphagotarsonemus latus bank., Veg Sci, 36(3):297-303.

T. Seenivasagan, Gandhi Gracy, R. and A.V. Navarajan Paul. 2010. Differential parasitism by Cotesia Plutellae (Kurdjumov) on Plutella xylostella (L)( in artificaly infested hosts plants J. Biological Control, 24(1):22-37.